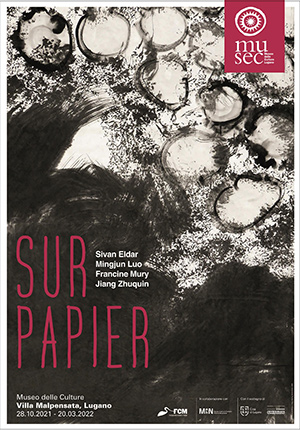 Kunstausstellung mit Werken von Luo Mingjun, Francine Mury, Jiang Zuqing und Sivan Eldar
Museo delle Culture, Villa Malpensata, Via G. Mazzini 5, 6900 Lugano
With the exhibition Sur Papier, MUSEC continues its exploration of the relationship between contemporary art and tradition in China. The artists Mingjun Luo, Francine Mury, Jiang Zuqing with the musician and composer Sivan Eldar, reflect together on the interaction between body and writing in a creative context now globalized individual.
The project Sur Papier originates from the meeting between the Swiss artist Francine Mury and the Chinese artist Jiang Zuqing. The intense four-handed work on large format sheets – produced according to the traditional methods of the Chinese province of Anhui – gives back the sense of their artistic complicity: the meeting of the body and the gesture with the white surface leads the artists to overcome their individual roles and their cultural origins.
The significance of this moment of sharing and encounter between cultures has generated the desire to expand the reflection around the theme of dialogue between artists and the hybridization of artistic languages between different cultures, including in the project a third visual artist, Mingjun Luo from China, resident in Switzerland since 1987, and a musician-composer, Sivan Eldar (Israel-USA). The exhibition ends with Domenico Lucchini's creative documentary "One Leaf One Life", dedicated to the meeting and collaboration between Francine Mury and Jiang Zuqing and to the dialogue between cultures as a generator of knowledge and art.
Organisation: Museo delle Culture Lugano